2018 Ride
The Summer Tour - a weekend of cycling in Northern Michigan will continue this year. We'll stay Thursday through Sunday camping at the Platte River Campground, Beulah, MI, Sleeping Bear enjoying some great rides, fun company and the beautiful sites of the Sleeping Bear Dunes area.
Pace of the riders will vary between moderate (14-16 mph avg) and good (16+ mph avg), which means there may be smaller groups forming and reforming.
6th Rapid Wheelmen Summer Tour
Thursday, July 19 - Sunday, July 22, 2018
Ride Information
Tentative plans for Summer Tour: Riding to Empire, Pierce Stocking & Sleeping Bear Dunes, up to Glen Arbor and around Glen Lake (hills if anyone wants to do that...) A ride around Old Mission Peninsula (wine tasting, Jolly Pumpkin brewery), and a circuit of Crystal Lake. Maybe a trip up Leelanau to Suttons Bay and beyond (hills and a TART trail).
The Platte River campground has real showers (you have to buy tokens) and modern toilets. There are bike racks in the parking area that we can lock our bikes to or we can lock them on/in our cars. The campsites are a 25 - 75 yard walk from the parking area. Not enough to be a "hike", but enough so that we won't have car headlights shining on our tents at night.
Some other ideas of things to do:
Wine tours by bike (or by car if the weather doesn't cooperate), for example the Leelanau Peninsula Wine Trail
Distilleries too, for example Northern Latitudes Distillery
Pierce Stocking Scenic Drive which is about 10 miles from the campground, this is a 7 mile figure-eight loop with some SERIOUS hills (I like to get up early ride there, do a loop, and ride back before breakfast)
Hitting the beach
Canoe, kayak, and/or tube rentals
Bike rides! (Duh!), here are a few examples
There are a lot of unpaved trails for those who might want to bring a CX/Mountain/Fat bike
If someone wants to go, but isn't a fan of tent camping, then we might be able to also get a drive-in campsite (all the reservable ones are taken, so you might have to arrive really early) or a campsite at another close-by campground, or a nearby cabin. I recommend Hamner's Riverside Resort - it's nice, and it's very close to Platte River Campground.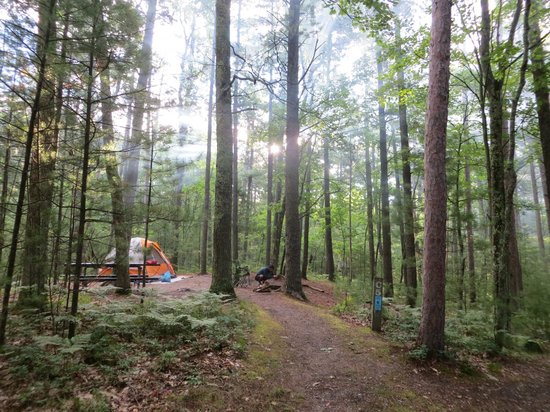 Email summertour@rapidwheelmen.com for more info or to register.
Rider Safety
Helmets are required for every rider on a club ride or event. Riders under the age of 16 must ride with an adult. Headphones should not be worn while riding.
Rules of the Road
Please note that this is a leisure tour, not a race, and that we are riding on open roads, not a closed course. Riders are responsible for following all state and local laws regarding road use. Please respect and be courteous of other riders and our fellow road users. (need a refresher?)