July 6th
We are back on the regular course and it is gloriously smooth! Come set a record!
2020 Coronavirus Practices
A. Wear a face mask if you need to come to registration.
B. Practice social distancing!
C. Renew memberships ($35/yr) online with Bike Reg if possible via website!
D. TT waiver forms will be available if you can't print and bring your own.
E. Skeleton crew (DD and da wife) means:
a. No holder
b. No markings at turn-around
Rain policy (standard): The time trial coordinator (Dave Durkee) looks at the radar about 5:30. If severe weather risk (aka- lightning bolts), we call it off. If only chance of some rain, we still ride. So for today, check your the club email list to see if it is called it off. If you hear nothing - we are still planning to ride.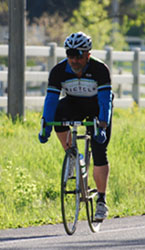 Time Trials are held May through August every Monday evening (except during holidays and severe weather) on a 15-mile course in Ada and are open to all members. Results are recorded each week and published online on this web page. Try to improve your time each week!
Questions? Contact Time Trials Coordinator
Annoucement
Every Monday night at Ada Park, first rider off at 6:30 pm (Except for Memorial Day) Registration closes at 6:15 pm What we will continue to provide:
Make you a member of the Rapid Wheelmen Bicycle Club
FREE activity for Rapid Wheelmen members
Provide official timekeeping on a standard 15 mile course
Provide a holder for the start
Results will be available soon after the last rider finishes
Sorted results by class available on our website the next day
Season end celebration party
Fun and Competition
Course Records for all classes available (For record attempts, we ask for a 48 hour advance notice to arrange for a turn-around spotter)
All previous classes for riders will be recognized each night: Men, Women, Juniors, Team, Fixed Gear*, Vintage*, Mountain Bike*, Hand Cycle, Tandem, Fat Bike*, Single Speed*, Human Powered Vehicle (HPV)*, BMX*, and Cyclocross (CX)*.
Registration by email is available. Email by 6:00 pm on ride night!
Other classes:
Merckx – Basically your road bike. No aero bars. Your chance to honor the famed Belgian rider.
Participation/Performance Points Contest for Men's and Women's categories with year-end swag to top 3 spots in each category! Reward for finishing higher in the order! We'll award points based on the number of participants. For example, if you finish 1st out of 25 riders, you'll get 25 points! Results posted weekly.
Possible new timing software that we hope can make sorted results immediately available. Stay tuned.
*- These Classes must be inspected and meet the criteria for that Class. Basically, they must be run as they would for their intended purpose (ie – MTN, Cross, BMX, and Fat must have the tires for their regular use, not road tires)
Time Trials are very visible to the area residents. Please ride in a responsible and courteous manner. Remember, you represent your club.
Who Can Participate?
Time Trials are open to all Rapid Wheelmen members. Not a member? Sign up on-line! If you sign up on-line less than a week before you come to the Time Trials, please bring your payment confirmation. Or download a Membership Application and bring it with you to your first time trial
The Time Trials are truly for participants at any level of fitness. All that is required is that you put forth your very best effort. We welcome people who have never ridden in a race before as well as seasoned athletes. There is room for everyone. If you have never raced before or feel that you may be slower, you can arrive early and request an early start time so that you finish with the others. You will establish your own base time at your own fitness level. You can come back as many times as you like throughout the season and try to improve your personal best time.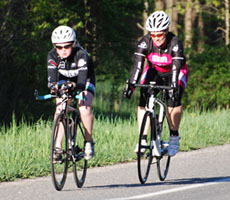 How Does It Work?
We meet at the corner of Grand River and Buttrick in Ada, MI, in the Grand River parking lot of Ada Park.
Sign up is from 5:30 to 6:15 p.m or contact the time trials coordinator in advance after 4:00 p.m.
You are also required to sign a release form. If you are slower or a novice rider, arrive early enough to sign up for an early start time.
You will be assigned a start time and number.
Report to the starting area at least 3 minutes before your start time.
The first rider starts at 6:30 p.m. After that, riders leave in 30 second intervals. No warm up or cool down on Grand River after 6:30 p.m.
The course is out and back for a total of approximately 15 miles, and the terrain is flat to gently rolling.
Ride on the right side of the road approximately 7.5 miles to the turn-around at the signal ahead sign. There is a big pink X in the middle of the road.
Turn only when traffic is clear and return.
Call out your number near the finish line. Once you have completed the Time Trial, do not cross the finish line again. To reach Buttrick by bicycle once you have crossed the finish line, go through the park.
The timer will give the times in the parking lot only after the last rider finishes. Do not approach the timer for your time.
Also see Instructions for First-Time Riders, Time Trials Rules and Fact Sheet for more details.
Required
A securely fastened ANSI/Snell approved helmet must be worn at all times while riding on the course.
All riders must read and sign a release form.
Riders under 18 must have a parent or guardian sign the release form.
Riders under 13 must ride with a parent or guardian.
Volunteer
It takes a couple dozen volunteers to run the Time Trials for the 4-month season. If you would like to volunteer, please contact the time trials coordinator.