Monthly Meetings
Monthly club meetings include activity planning, committee reports, announcements, presentations, and workshops or talks by guest speakers. Meetings are held the first Thursday of most months* at 7:00 p.m. in the Rapid Central Station conference room; check the calendar on our home page.
Rapid Central Station
250 Grandville Ave SE
(across from Founders Brewing Co.)
Directions: from US131, take the Wealthy Street exit, go east about a block to Grandville Avenue. Turn right (north) for 1 block to the Station (across from Founders).
Parking: Park free in the DASH commuter lot south of the station. The parking lot is accessed off Ellworth Ave between the Station and Wealthy St. There's lots of on-street parking in the area, too. (map)
*Months with meetings:
February
March
May
August
October
December
Check the calendar, email list, and social media about our summer informal meetings. Usually in the form of a potluck picnic or club-provided ice cream social! Everyone is welcome at any of our meetings, picnics, or socials.
Documents
Links, documents, tools, and info for members.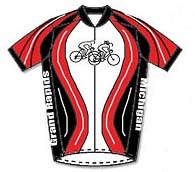 Get Wheelmen Gear
Our apparel is custom made by Champion System. Aside from the items listed here, they feature a wide variety of cycling apparel.
We can special order items that are not listed, including size we don't have in stock. We also have some women's specific cuts in stock or will be able to order them for you.
Rapid Wheelmen merchandise is available, including:
Club jersey: $60.00
Club shorts: $65.00
Club bib shorts: $70.00
Club water bottle: $10.00
There is a $4 shipping charge per item unless you plan to pick up items at a meeting or event. Make checks payable to Rapid Wheelmen, Inc., and mail to:
Rapid Wheelmen, Inc.
PO Box 1008
Grand Rapids, MI 49501
If you have any other questions or would like to arrange pick-up of your merchandise, please contact the Vice President.