We welcome riders of all ages and offer rides for all levels – from beginners to experienced cyclists. There is something for everyone: individuals, families, racers, tandem enthusiasts, and more. If you enjoy cycling, want to develop good riding skills, or are looking for a fun and healthy group activity, then become a member today!
Our membership year is January 1 to December 31; if you join after September 1, your membership will run until December 31 of the following membership year. One-year ($35) and three-year ($90) memberships are available; all memberships are family memberships including all members of your household.

Email our Membership Chair for more information
Benefits
Participate in club rides and activities
Discount on club-sponsored tours
Receive a free monthly newsletter with a ride calendar
Attend club meetings
Vote on club matters
Develop good riding skills
Enjoy a healthy activity with a fun group of people!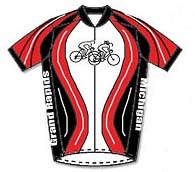 Get Wheelmen Gear
Our apparel is custom made by Champion System. Aside from the items listed here, they feature a wide variety of cycling apparel.
We can special order items that are not listed, including size we don't have in stock. We also have some women's specific cuts in stock or will be able to order them for you.
Rapid Wheelmen merchandise is available, including:
Club jersey: $60.00
Club shorts: $65.00
Club bib shorts: $70.00
Club water bottle: $10.00
There is a $4 shipping charge per item unless you plan to pick up items at a meeting or event. Make checks payable to Rapid Wheelmen, Inc., and mail to:
Rapid Wheelmen, Inc.
PO Box 1008
Grand Rapids, MI 49501
If you have any other questions or would like to arrange pick-up of your merchandise, please contact the Vice President.