We welcome riders of all ages and offer rides for all levels – from beginners to experienced cyclists. There is something for everyone: individuals, families, racers, tandem enthusiasts, and more. If you enjoy cycling, want to develop good riding skills, or are looking for a fun and healthy group activity, then become a member today!
Our membership year is January 1 to December 31; if you join after September 1, your membership will run until December 31 of the following membership year. One-year ($25) and three-year ($65) memberships are available; all memberships are family memberships including all members of your household.

Email our Membership Chair for more information
Benefits
Participate in club rides and activities
Discount on club-sponsored tours
Receive a free monthly newsletter with a ride calendar
Attend club meetings
Vote on club matters
Develop good riding skills
Enjoy a healthy activity with a fun group of people!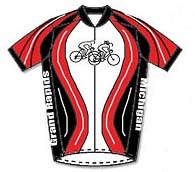 Get Wheelmen Gear
Rapid Wheelmen merchandise is available, including:
Club jersey: $60.00
Club shorts: $65.00
Club bib shorts: $70.00
Club water bottle: $5.00 ($3.00 if picked up)
There is a $4 shipping charge per item unless you plan to pick up items at a meeting or event. Make checks payable to Rapid Wheelmen, Inc., and mail to:
Rapid Wheelmen, Inc.
PO Box 1008
Grand Rapids, MI 49501
If you have any questions or would like to arrange pick-up of your merchandise, please contact the Vice President.