This unique ride offers three "mix and match" loops. You decide how many miles you want to ride. This allows more "social time" between riders of different paces as all the routes loop back to Long Lake Park, where our Cool Cooks with Hot Coals will be cooking up steaks, dogs, and veggie burgers!
Questions? Email mapleleaf@rapidwheelmen.com
2019 Ride
Maple Leaf 2019
Saturday, August 17, 2019
Registration
Click on the BikeReg logo below to register online. Online registration deadline: August 15.
Register before August 9 to enjoy steak at the cook-out!

Use the form in the Maple Leaf 2017 Flyer for mail-in registration. Mail-in registration deadline: August 9.
Cost:
Until August 7

Wheelmen members:
$20 per person
$40 per family

Non-members:
$25 person
$50 family

After August 7

Wheelmen members:
$25 person
$50 family

Non-members:
$30 person
$60 family
Routes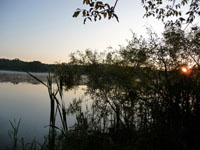 Well marked routes!
35-mile hilly loop
32-mile less hilly loop
20-mile mostly flat loop
Mix and match to get the mileage you want! Exact mileages may vary.
Start Location and Schedule
Start Location: Long Lake Park, 13700 Long Lake Dr NE, Cedar Springs, MI
Take US 131 to Exit #104 (M-46, 17 mile). Go west approx 2.5 miles, turn left (south) on Long Lake Dr NE. Continue south to Open Shelter on left (near 2nd parking area).
View Larger Map and Get Directions
7:00 - 11:00 AM: Registration & Sign-in
11:00 - 3:00 PM: Hot Grills & Cool Cooks
4:00 PM: SAG service ends
Rider Safety
Helmets are required for every rider on a club ride or event. Riders under the age of 16 must ride with an adult. Headphones should not be worn while riding.
Rules of the Road
Please note that this is a leisure tour, not a race, and that we are riding on open roads, not a closed course. Riders are responsible for following all state and local laws regarding road use. Please respect and be courteous of other riders and our fellow road users. (need a refresher?)