Since I joined the Rapid Wheelmen in October, I had always heard about the ominous Bag Balm. I tried to find some information, but it seemed like a well kept Wheelmen secret. After being told it is a somewhat internal ride, I knew I had to get in – and I did! Memorial Day weekend, my first overnight ride, how exciting! At the same time, about 220 miles in 2 days, how scary since I still consider myself a newbie but after doing the Ride Around Kent County the weekend before, I felt up for the task.
Ride start was scheduled for 7am, everyone met at the Peppermill Grill in Rockford bright and early for a group breakfast. The group was 20 strong, the 19 riders were Greg and Caroline Blake, Gary Trap, Susanne Aldridge, Bill Goodspeed, Nancy Lange, Bill Skinner, Terry VanderKlok, John Kowalczyk, Linda Momber, Rick Pearce, Dave Staublin, Mary Stodderd, Scott Chapman, Alison Gase, Dave Moore, Mike Burden, Jeff Scofield, Randy Higgins and we had wonderful SAG support by Jim Steenwyk
Unfortunately, the weather wasn't as promised – the weather men have had a hard time with their forecast over the last weeks, and sure enough they were pretty much dead wrong again. The day started grey and rainy, but that didn't get the mood down at all.
We started a little after 7am and went up the White Pine Trail, light drizzle and the path was wet. The group split fairly early in different speed groups, and I was somewhere in the middle. I had decided to not wear my Rapid Wheelmen jersey and planned on wearing it on Sunday. Oh what a mistake - I don't think I have ever had that many comments on my choice of wardrobe.
Sure enough, at the first stop SAG King Jim Steenwyk commented "Oh, I can't believe you are not wearing your Wheelmen jersey". That was it; I demanded access to my bag, took off my pretty Polka Dot jersey and grabbed my pink RW jersey. There – showing off my Wheelmen pride like everyone else. And yes, I know it was all good natured ribbing – no worries! I had dished out plenty of "Why are you not wearing your jersey?" myself before, so payback is…ah, we all know what it is.
It was great riding with friends, making new friends, riding and talking with people who I hadn't met before. Jim did a wonderful job, checking up on the group, supplying treats and encouraging words. At the various SAG stops, people got together again, regrouped so there were always new people to ride and chat with. I enjoy hearing the different stories of how people got into cycling and telling my own story.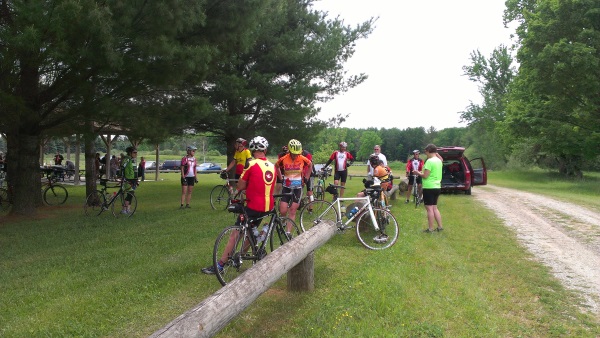 Lunch Break
Well, everything was nice and well, until I kinda had a wonky bike feeling, I thought it was in my pedal but Randy H. pulled up and said "I think you broke a spoke". Sure enough, we stopped and that's what it was. Several people pulled by and asked if I was OK, but Randy was already working on it so I could continue to ride to the SAG that was close. Big discussion at the SAG, no one had a proper spare spoke and opinions spread from "Don't be a wimp, keep riding" to "Get to the bike shop and have 'em fix it". I listened to the latter and after 93.6 miles Jim sagged me to a bike shop in Cadillac. They fixed it, I bought a few extra spokes and that concludes my ride. Back at the hotel, we all got together again, exchanged stories, enjoyed pizza, went for ice cream and everyone tugged in early to get ready for an early start then next morning. The forecast promised a hot day in the 90s, so better get some rest.
Ah, then next morning – grey, dreary, and looking like rain. So it seemed the weather channel was wrong again. During breakfast, it started with a drizzle, turned into a big shower and went to a full blown thunderstorm from there. People started to call wives and mothers to avoid riding in the rain, some with more and some with less success but in the end, and after a nice breakfast almost all of us got into the saddle around 9am and hit the road. The Wheelmen are a tough crowd and are not fazed by a little thunderstorm and lightning – being the newbie that I am, I thought taking of under those conditions was insane but who am I to judge. 10 minutes in, I was soaked. Rick P. found his inner child and made it a point to ride through every puddle he could find, I am sure I heard him giggle through every one of them.
After a while, I realized I hadn't put my phone back into the zip lock bag, and I stopped for a moment. I noticed a few bikes come by while I tried to get the phone out of my pack, find the zip lock bag, stash it away safely. And when I looked up, I was alone, all alone in the rain in Cadillac. Hmpf…well, I decided to go straight and hope I can catch up, "straight" turned into a T on Sunnyside Dr. – all I knew was I had to find the White Pine Trail, so after consulting my phone GPS, I turned left and soon hit the trail. No idea where everyone was I just kept going. It didn't take too long until the Randy H., the 1-man-search crew found me…what a relief. A few miles later, Rick P. ran into us and the three of us kept going down the trail. We were going at a decent clip considering the conditions, but a flat and a few nature breaks kept us from catching up to the rest until the next SAG where we were joined by Alison and Linda and the five of us trailed the main groups for the rest of the trip. The weather had made a turn to the beater, and while the ride was hard and long, with a little sunshine and great company, time had passed and before we knew it, we had reached the lunch stop where a large group was still hanging out.
By the time we had ordered lunch, some nasty clouds had come up again, and we were worried, but "Hello, this is Michigan" and once we had finished lunch, it was back to warmth and sunshine. The trip concluded nicely, unless you count general aches and pains. We reached the parking lot in Rockford and were greeted by Nancy, John K., and King SAG Jim who told us that the rest had just left minutes ago. A check with my Garmin told me that I need another 7 miles before I was able to proudly proclaim that I had ridden 200 miles in a weekend and Alison and Randy immediately agreed to hit the road with me to get me to my 200 miles. So a short trip to Belmont and back concluded my first Bag Balm – what a trip it was! Great ride, amazing support, wonderful company! Thanks to everyone who did the ride with me and thanks to everyone who introduced me to some good natured ribbing - be it for the wrong choice of jersey or for getting a SAG for a broken spoke. No hard feelings, but be prepared, I will retaliate!